This system does everything for you, including affiliate management, list building, conversion tracking and much, much more!

Dear Fellow Marketer,
Whether you sell ebooks, training courses, memberships, or any other digital product, you're not likely to achieve significant wealth from it . . . unless you leverage the time and energy of others—and that's much easier than you may think!
Let's be real, you're only one person, there's only so much you can do to drive traffic to your site—but imagine dozens or even hundreds of people all driving traffic to your site. It's not hard to see you'd make a lot more money if you had an army of sales people working for you, especially since they only get paid when they produce.
This is called leverage, and that leverage is the key to generating massive targeted traffic to your offer, and a corresponding increase in sales. So how does someone like you or me develop leverage?
Well, if you'll bear with me, I'd like to show you something today that you can put to work right away.
Introducing Rapid Action Profits (PRO)...
The Fastest, Easiest Way to Launch and Sell Info Products, Build your own Affiliate sales force, and Create a Massive Opt-in Mailing List of Proven Buyers
That's a bold claim, but I have good reason to make it. Rapid Action Profits is a
complete marketing system
of proven strategies, INCLUDING the software that drives the process, mostly on auto-pilot.
Hi, my name is Sid Hale. You may not know me, but I've been in business about twenty-five years, owning my own companies and being my own boss.
What's important to you is that for the last 15 years I've been marketing on the internet, full-time, working out of my home office in a converted bedroom.
Whatever strategies you're using to try to earn a living on the internet, odds are I've done it. I've owned membership sites, sold affiliate products, sold PLR products and Resale Rights products, created my own info products, done some great Joint Ventures, and mentored more people than I can count.
I got tired of cobbling together one script for opt-ins, another for up-sells, yet another for back-end offers, peel-away ads, controlling limited-time or limited-quantity offers, patching into a payment processor, handling affiliate payments...
Whew . . . that was WAY TOO MUCH WORK when it just shouldn't be that hard!
That's why I developed Rapid Action Profits. Rapid Action Profits combines all these components and more in one easy-to-use software sales system!
Rapid Action Profits—my own replicable marketing system—can be used over and over again. It's a solution you can apply to any online market, without having to change a single line of code that controls the system.
Fantastic Leverage with NO Hassles!
Rapid Action Profits pays affiliates and JV partners
automatically and immediately
. Here's what that means for you...
It's much easier to get affiliates and JV partners because they get paid any earned commissions immediately. Unlike most affiliate programs, they don't have to wait 30-60 days to get paid and they don't have to reach a specific sales level. Affiliates love being paid immediately and are much more enthusiastic when they know their efforts bring immediate rewards.
...and it's all AUTOMATIC!!!
You don't have to cut affiliate checks, do mass pays, or even send out 1099's at the end of the year.
With Rapid Action Profits you'll never have to worry about that because affiliates receive their payments directly from the customer, not from you! Your affiliates are more like a retail store, a reseller, who receives payment directly from the customer, rather than receiving payment from you after the fact. This frees you from complicated record keeping and filing tax forms for each affiliate. This is a huge time-saver, not to mention great stress relief!
That means whether you have 10 affiliates, 100 affiliates, or even 1,000 affiliates, there's no paperwork to bog you down! You can spend your time where it pays off the best, on product creation, JV partnerships, and launches.
Look What Rapid Action Profits Can Do for YOU...
You don't have to take my word for how truly remarkable Rapid Action Profits is...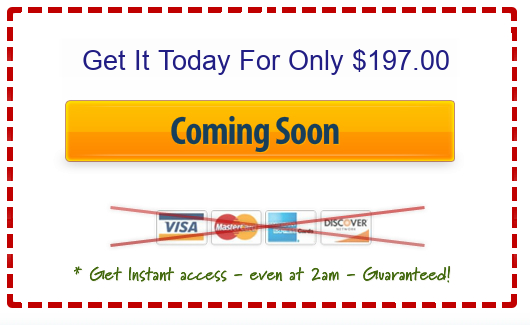 How the Affiliate Commission Works
One scenario...
If you're offering 100% commissions on a product, the affiliate will get paid for every sale that results from his/her affiliate link. But... you capture the customer onto YOUR buyers' list. If you immediately make a back-end offer to those buyers, right after they pay for your first offer, you can also make money from that sales campaign, because you can make it a one-time offer (creating a fear of loss), and you can set the commission rates on that offer to anything you like (even 0%, if you want).
Because it's a list of buyers (rather than just tire kickers), it's a responsive list, and you can count on making even more money from later offers sent to that list.
Second scenario...
For this example, assume that you offer less than 100% commissions... you can set the commission rate to anything (0% to 100%) for any front end sale, and you have the same flexibility for the back-end offer.
When an affiliate sends you a referral that turns into a sale, you get that first sale. The affiliate always gets the second sale he refers, and after that the sales will rotate based on the commission rate you have set - making sure that your affiliate is always current on with his/her share of earnings.
And, of course, you can set up a back-end offer on this type of campaign, as well.
Of course, if you don't want to have an affiliate program, you don't have to use the affiliate function—but you'll make more money if you do! Your affiliates will send sales to you that you otherwise wouldn't have gotten.
Add-on Architecture
The add-on architecture of Rapid Action Profits allows the development of add-ons by 3rd Party Developers. You've probably seen this concept in action if you use a Wordpress blog or the Firefox browser as there are many plug-ins available for both.
This allows you to grow the functionality of RAP much more quickly than if you depended totally on us to prioritize, develop, and enhance features. PLUS - it keeps the base price down because you only need to add the extra features that you need (I only use one of the RAP Certified Add Ons here, on this site).
One of the most popular add-ons is the Membership Module. We liked it so well we made a special package with the membership module included. If you're interested in developing a membership site, you can learn about the membership add-on here. It's the same great system with membership site functionality added.